GLUCO NAVII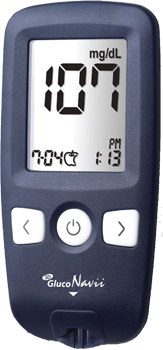 The Gluco Navii is intended for multi-patient use in a long-term care setting. It provides safe, accurate results and allows users to transfer, organize and analyze data easily and efficiently.
No-code system.
No coding required.
Small blood sample required.
Small blood sample makes it less painful to the patient.
Large memory capability.
Stores 400 test results with date and time.
Quick, accurate results.
Provides results in 5 seconds to reduce waiting time for patients and caregivers.
Significant results range.
Expanded results range of 20-600 for reliable results.
Glucose Oxidase strip chemistry.
Trusted glucose oxidase chemistry eliminates significant interferences.
AST (Alternate Site Testing).
AST allows the Gluco Navii meter to measure blood from fingertips, forearms, and thighs.
Your Gluco Navii resource center.