MEDLANCE® PLUS & ACTILANCE® LANCETS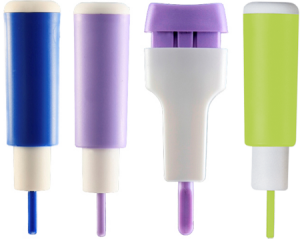 Designed for modern capillary blood sampling, the Medlance Plus and Actilance single-use safety lancets are integral to the sharps-injury prevention programs in hospitals, clinics, laboratories, and doctors' offices. Both Medlance Plus and Actilance provide increased safety to eliminate needle-stick injuries and cross-contamination.
Gentle and comfortable.
Easy to use.
Designed for efficiency.
Enhanced safety.
Four gauge sizes available.

Your MEDLANCE® PLUS & ACTILANCE® LANCETS resource center.
Three easy steps:
Remove the colored protective cap by twisting and then pulling straight out.
Activate the device by firmly pressing the lancet against the puncture site.
Gently apply intermittent pressure near the puncture site to obtain the required blood volume.