FORA GD20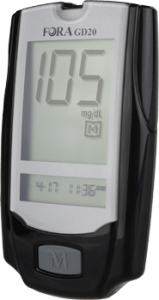 The FORA GD20 provides safe, accurate results and is intended for multi-patient use in a long-term care setting.
Safe strip eject button.
With simply one push of the strip-ejection button, the used strip can be easily ejected from the meter without touching your hand. The risk of hazard by exposure to blood is significantly minimized.
No-code system.
No coding required.
Small 7µL blood sample required.
The meter requires a small sample size which is particularly important for seniors and long term care facilities.
Large memory capability.
Stores 448 test results with date and time.
Quick, accurate results.
Provides results in 7 seconds to reduce waiting time for patients and caregivers.
AST (Alternate Site Testing).
AST allows the FORA GD20 meter to measure blood from fingertips, forearms, and thighs.

Your FORA GD20 resource center.
Three easy testing steps:
Step 1. Insert test strip.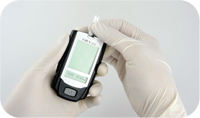 Step 2: Apply blood sample.


Step 3: Read results within 7 seconds.